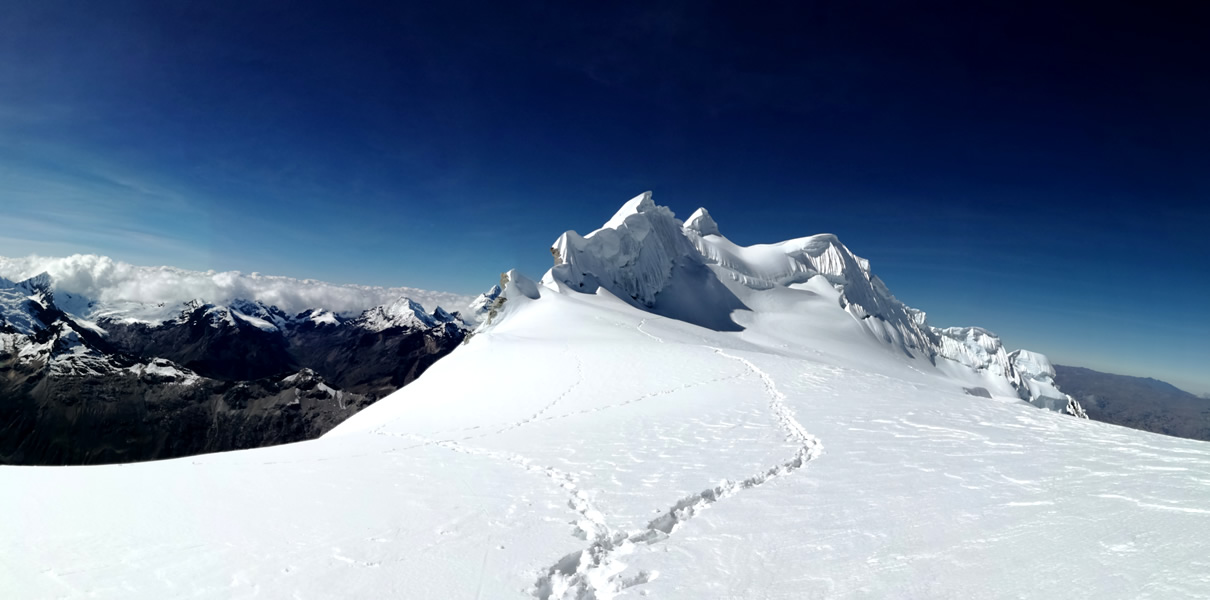 TREKKING & CLIMBING EXPEDITIONS FRECUENTLY QUESTIONS
Is there a limited age to travel with Andes adventure holidays in Peru?
There isn't limited age to travel with us, we have leaded clients: teenagers, adults and travelers over 74 years old on our Andean circuit, we will be completely pleasure to organize on private basis for groups of friends, families, adventure companies & tour leaders. With fully local guides assistance. Please feel completely free to get in touch with us to discuss the itinerary and your preferred dates to send you a quote, with no obligation
What equipment do I need to bring for trekking & climbing expeditions?
For each multi-day treks & climbs, you should bring your personal trekking & climbing gear, because Andes adventure holidays provides collective trekking & climbing equipment as: a good quality sleeping tent with enough spacious (three season tent for multi-day treks & four season tent for climbing expeditions), a single tent available just only upon request with extra expenses, simple foam sleeping matrass, a dinning & cooking tent, a toilet tent to environmental take care, tables, chairs according number of participants, full utensil kitchen.
You should bring a sleeping bag (- 15° C - -25° C), appropriate trekking & climbing gear, a day pack (35 – 45 liters), a ruck sac or duffel bag (60 – 70 liters), personal first aid kit, personal toiletries. Detailed trekking & climbing gear and clothing list available at the booking time.
What equipment do I need to carry during the trek, hike or climbing day?
You should carry in your day pack just only useful gears as: water proof jacket, pant (Gore-Tex), water bottle, sunglasses, camera, your personal first aid kit, snack, hiking poles. The midday Lunch is carried & served by our cook.
Do I need to carry cash with me during the trek, hike or climb expeditions?
Only necessary cash in hand, because maybe you could have some chance to purchase some items or drinks on the circuit, as buy beer or soda in other hand buy colorful souvenirs. However, plan to have some money on hand at the end of the trek, hike or climb expeditions to tipping the donkey drivers, cooks, porters, guide, and bus driver.
PASSPORT & MONEY POUCH: The kind that fit around your neck, or around your waist inside your shirt. Generally you can leave valuables items such as credit cards, extra cash, plane tickets and such in your hotel safe.
Insurance assistance
We highly recommend that every client have their travel insurance assistance, which will cover personal accidents, medical expenses and repatriation. If you do not have travel insurance assistance, Andes adventure holidays will ask you to sign personal responsibility waiver, which mean that our company well be not assume any responsibility for any accident.
What about Risks and hazards in cordillera Blanca?
Every participant should understand that the cordillera Blanca is very high glaciated mountain range and its located on a tectonically unstable region suffer all the time natural hazards such as: earthquake, rock slides, ice avalanches, and rainstorms, which can affect or interrupt with our trip programs, where Andes adventure holidays will be not assume any responsibilities for any incidents that may be Caused by natural hazard.
Can be affected or canceled my trip program by bad wheatear, strike or natural hazard?
In the serious bad wheatear, strike or natural hazard that interrupt blocking the trails to approach the trip goal we cannot cancel the trip program. We offer many alternative options to decide. On climbing programs are subject to weather conditions and if the guide considers that weather conditions is dangerous, then you must to descent for your safety. If you decide to cancel your trek or climb expedition after booking at late notice, we cannot refund your many because our staff is organized & paid in advance and due office expenses.
How physical shape do I need to be for Trekking or Climbing in Peru?
For easy hikes it is not necessary to be in "super shape with your shape is necessary" but for moderate & demanding multi-day treks & climbing expeditions is required to be completely in fit, that is the reason in all our trip programs we suggest to make gradual acclimatization process, to avoid the dangerous altitude sickness.
Can I find trek, hike or climb gear in Huaraz?
To be honest in huaraz there isn't big mountain shops to purchase mountain clothes, there are several small mountain shops, where you can rent some mountain equipment for your trekking or climbing expeditions.
What is the currency in Peru?
Official currency is Peruvian Sol. USD dollars widely accepted in touristic cities, however you need to change in soles, when you deside to visit villages. The dollar exchange rate is changeable every day. Currently this change is fluctuating in $ 1 US = between 3.25 soles - 3.15 soles. USD $ can be changed in change houses, which are lies along the main avenue in Lima and Huaraz, which are usually open from 7:30 am until 8:00 pm. Euros can also be changed easily in Lima or Huaraz in soles, which can be changed at banks or change houses.
Is it safe travel with cash money in my pocket?
Travel with wide cash money in your pocket is bay far not recommendable in anywhere, but it is good idea to have a supply of small bills, especially in Soles. in huaraz you are going to find several ATM machines services available and almost everyone will take US dollar, ATM accept debit cards as: VISA, MASTER CARD, TRAVELER CHECKS, and AMERICAN EXPRES with limited option when you may get cash. The Most machines do not accept debit card cash. Cards must have a PLUS or CIRRUS symbol to work in an ATM machine
In huaraz only CONTINENTAL BANK change traveler checks, and AMERICAN EXPRESS accept change from US$50 until US$1500 as maximum in a single transaction per person with US$12 charged. In excess of US$1500 per transaction 02% charged on the total changes.
Where can I let my valuables things when I go to trek or climb?
At the hotel box secure where you can let your important items as: passports, important documents, jewel, and money other valuable things, in otherwise you can also let your belong at our office.
PASSPORT:
Make a photocopy and keep during the trek or climb expeditions.
MONEY POUCH:
The kind that fit around your neck, or around your waist inside your shirt. Generally you can leave inside valuable thins, when you travel you should take just only necessary cash for the day.
How do I get to Huaraz from Lima?
There are two ways to get Huaraz by bus or by flight if you have limited time.
By bus.–the most common to travel from lima - Huaraz – lima is by bus, which takes around 8 hours on the paved road, there are day bus service and also night buses according your preference and your time, we advise you to travel during the day & choose sit on the right side of the bus to enjoy the spectacular scenery as soon as the bus reaches the highland. We recommended three bus companies such as: cruz del sur, olturza or movil tours(these companies offer more luxuries, slightly more expensive but safe travel without stops on the way) Ask us to suggest the best time to travel before purchasing your ticket.
by fly.-
as far as you have limited time & you want safe time there is flight service, because nowadays
LC PERU
airline company offer flights service every day, which takes around an hour for coming huaraz. There is not direct flight service to huaraz from other sites of Peru
we are available to buy or book your bus or flight tickets. Contact Us for information.
How will the altitude affect me?
Huaraz is a mountain city located at 3100m, where our treks, tours, and climbs expeditions start. As the most travelers, who arrive hire come directly from sea level, with very susceptible body to the altitude, for it we suggest: responsible trekkers or climbers should spend at least two days getting acclimatization around huaraz before heading up any outdoor pursuit.
Can I carry digital gadgets with battery?
You are completely free to carry digital gadgets with battery with their proper or universal adaptor. on trek or climb circuits there isn't electrical supply to recharge batteries, that mean you should bring a small solar recharging panels.
Entertainment selection:
mp3 players, paperbacks, journal, games or cards, kindles.
Camera: it is very helpful to have a compact camera that can be hung around the neck or stuffed in a pocket so that it is handy, but doesn't interfere with trekking.
Mobile phones:
mobile phone coverage is spotty in much of the cordillera blanca, especially in the valleys. However, once you get up on some ridges and on top of some peaks, often you can get a signal, pick up email or send text messages, however, operating your phone when it is constantly looking for a connection it can't find tends to drain the battery very quickly.
SOLAR CHARGING PANELS:
bring small electronic gadgets portables that may fit your needs.
What happens if I get sick on the trek or climb program?
Our every staff are trained year a year to offer the first aid when you have altitude sickness, for this cases we always consider emergency horse when the group is formed over three participants on treks, if the trek group is below three participants emergency horse is available upon request with extra expenses. The emergency horse is for, when someone has physical problems to support, or for evacuating when someone injured while walking as soon as possible to nearest road or village. That is reason, that our every treks & climbs programs are graduated as well as clients are specifically distributed by guiding ratios according the guide skills, on the most of trek or climb expeditions there isn't radio communication or cell phone contact if there is, its limited, for that cases we carry in every trip a radio with around 20 km communication reach to keep in communication the main guide with our cook or other member of the staff.